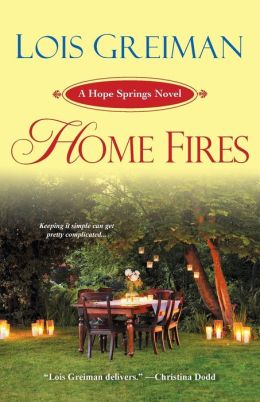 AMAZON Buy Link
Page Length: 288
Genre: Women's Literature
About the Book:
This sequel to

Finding Home

is the second book in Lois's

Hope Springs

series.
Casie Carmichael's accidental dude ranch is well on its way, but the residents of her Hope Springs haven are running wild. With an unwed mother-to-be, a turbulent teen romance, and a bronc-riding grandmother to contend with, the last thing Casie has time for is a romantic relationship. But convincing recently returned Colt Dickenson she's not interested in him--or the confusion he causes her--is easier said than done.

Yet as Casie's ragtag crew saddles up to help with everything from birthing babies to legal woes, she finally begins to see that family wears many faces--and being independent isn't the same as being alone.
Lynda's Review:
~Listen, son..." Monty lightly squeezed the strained muscle above Ty's right arm."Where women are concerned, sometimes there ain't nothing you can do but cinch up tight and pray to God," he said, and Ty felt his heart break just a little more.~ Page 128
What a dysfunctional group of characters! That was my first impression as I began to read this story, then, as I got deeper into the lives of Casie and the people who inhabit her world, a certain poignant concern for each of their circumstances compelled me to keep reading.
Casie is a woman who isn't afraid to try anything to build the life she wants. Of course, she's her own worst enemy, at times, because she can't pass up a person or critter in need, complicating and creating new sets of problems. And she's not too keen on starting a romantic relationship either, but what's a girl to do when it presents itself in the form of Colt Dickenson.
I found this to be an easy, warm, and entertaining read.