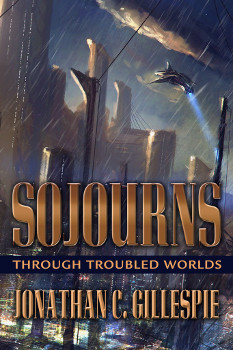 Title:
Sojourns Through Troubled Worlds
Author:
Jonathan C. Gillespie
Publisher:
Heavy Caliber Publishing LLC; 1 edition (July 14, 2012)
Genre:
Sci-Fi (Short Stories)
Page Count:
55
Amazon link:
About The Book:
Malevolent,
metal-scavenging microdrones
("Paston, Kentucky"). A collector's car with a mind of its own, off for a drive through a
nuclear holocaust
(the two-time award-nominated "Best in Class"). An experienced climber tackling
the most dangerous alien obstacle in the universe
("Spired"). These and other stories await the reader in Jonathan C. Gillespie's debut short fiction collection,
Sojourns Through Troubled Worlds
, which brings together five killer tales from the author's publishing history.
Lynda's Review:
While short in length, these stories don't lack in imagination. As the book blub states, they cover a wide range of weird, scary, and totally unique adventures, or nightmares, depending on the reader's willingness to take the ride. I'm a real fan of Sci-Fi and found these stories truly different in scope and perspective. The author is an accomplished storyteller. I could sit around a campfire and listen to his imaginings for hours.