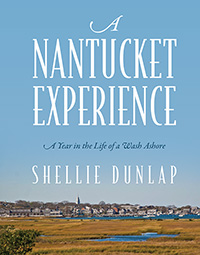 Title:
A Nantucket Experience
Publisher:
Outskirts Press (May 22, 2013)
Genre:
Non Fiction/Travel/Compilation
Page Count:
134
Amazon Link
About The Book:
22 Miles out to sea, off the coast of Cape Cod Massachusetts, lies a little sliver of paradise called Nantucket Island. The magical experience begins the moment the ferry carrying bright-eyed visitors glides around the Brant Point Lighthouse and into Nantucket Harbor. Church steeples dot the horizon, gray shingled cottages line the wharf and sailboats bob on their moorings. As guests descend the boat ramp and step onto the brick-paved wharf there are so many quaint details it's impossible to take them all in at once. One new island visitor was overheard saying, "It's like Disneyland for grown-ups." Tourists and summer residents get the opportunity to experience the island "in season" when all the shops and restaurants are in full swing and the population can swell to over 50,000. But those who call Nantucket home know the best kept secrets of the island are revealed all year long. Shellie Dunlap and her family had owned a house on Nantucket for over 17 years before deciding to make the island their permanent home. During her first year as a new full time resident of the island (affectionately referred to as a "wash ashore" by long time Nantucketers) Shellie learns there is more to the island than she ever dreamed possible and much she has yet to discover. Come join her as she ushers you through one year of island life and inspires you to create your own Nantucket Experience.
Breeze's Review:
F

irst of all, I didn't feel like I had just read a book when I finished this. I felt like I had a conversation with a native of Nantucket, perhaps over coffee. The book was written in such a way that you don't feel as though you're reading just facts about this place but rather a real story about what Nantucket is truly like. Each section deals with the months of the year and what each month brings to Nantucket. Once you finish reading, your going to feel like you haven't missed one detail of what it must be like to live or visit there.
The photographs in the book are wonderful and each picture goes right along with how the author describes things.
My favorite line from the book reads:
~"One of the most amazing things about Nantucket is it brings out the child in all of us."
You will learn about Nantucket's starry nights, the beaches, the people, the homes, and just about anything else you can think of. T
his would make a great gift for someone. You can feel the love that this author has for Nantucket and as a reader I appreciated that. Great book!!