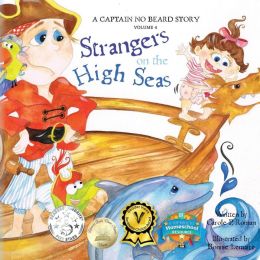 Publisher:
Red Feather Publishing (July 16, 2013)
Genre:
Children's
Page Count: 32
Amazon link:
About The Book:
Captain No Beard and the crew of the Flying Dragon welcome a new crew member, when Cabin Girl Cayla joins the ship. Responsible for his little sister, Captain No Beard is not very happy because he finds his newest charge a distraction. When faced with danger, the captain must find a way to escape. While learning valuable lessons about strangers, the crew realized not to judge somebody because they are young or small. Strength comes in all sizes!
Breeze's Review:
I can't say enough about how much my daughters and I enjoy these books. They are good stories for both girls and boys to enjoy. Each of the characters come to life through the pages and the illustrations are wonderful! These books help to teach children valuable lessons while keeping them entertained. We especially enjoyed meeting the new character, Cayla. For children with younger siblings, this story would be great to share with them
together. As always, the pirate "language" is clever and fun. Thanks for another great read!!